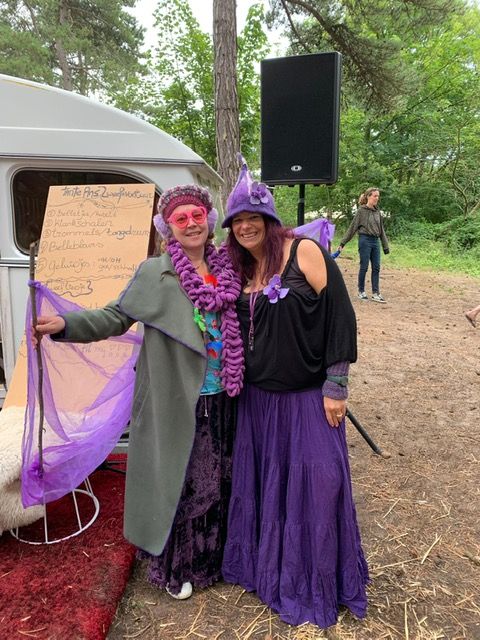 De zomervakantie startte al goed. Gab (van Gabs Lichthuis in Zwaag) was gevraagd om op Bakkum Vertelt te komen met een "doe je mee verhaal" en met helende klanken en wensveertjes in het huisje van de campingmascotte. Dat verhalenhuisje werd omgedoopt tot Gabs Lichthuis op Bakkum.
Vooraf had Gab 2 avonturen geschreven waarbij kinderen met instrumenten mee helpen om het verhaal tot een goed einde te brengen. Een zweefavontuur en een zeedierenavontuur. Of ik tante Ans wilde spelen. Tuurlijk!! Altijd fijn om met kinderen samen te werken!!
De laatste schoolvrijdag hadden we gelukkig studiedag, dus vroeg naar huis om op avontuur te gaan. Het "klankhuisje" was helemaal verGabst met paars en mooie doeken en alle instrumenten. Bij een caravan hadden ze een gezellig knus podium gemaakt waar we ons toneelstuk konden uitvoeren waarbij de kinderen met instrumenten tante Ans weer konden laten vliegen. De interactie was super! Alle kinderen hielpen graag mee! Ook de helende klanken en wensveertjes sloegen goed aan bij de "glampeerders."3 dagen vol plezier en interactie. Op de 3e dag zouden we eigenlijk niet meer met tante Ans optreden, maar er was een act uitgevallen. Met plezier hebben we het avontuur met de zweefmobiel nog een keer gespeeld. Het waren 3 leuke dagen en het weer was prima, niet te heet, niet te koud, niet te nat……
Het eerste weekend van augustus is het Castlefest tijd. Een heerlijk festival waarbij de kasteeltuin in Lisse omgetoverd wordt in een andere wereld….. Iedereen mag en kan er zichzelf zijn, mag zijn of haar alter ego daar zijn. Viking, heks, prinses, ridder, steampunker, furry animal, noem maar op.
Sinds ik bij Gab energetische cursussen heb gevolgd ben ik ingelijfd om mee te gaan naar Castlefest. Als "elfje" bij Gabs Lichthuis op Castlefest bij de Heidense Bende. Helpen of meedoen bij workshops : helende klanken en daarbij healingboost geven, helpen elfen stokjes maken met kinderen, Elfenuurtje healing geven, dit jaar hadden we helende klanken en zelf "klinken". Op de eerste dag was mijn vriendinnetje Chantal voor het eerst mee. Ik had haar al zoveel verteld over de sfeer, de gemoedelijkheid, de prachtig geklede mensen dat ze blij was om een keer ondergedompeld te worden in het Castlefest familiebad.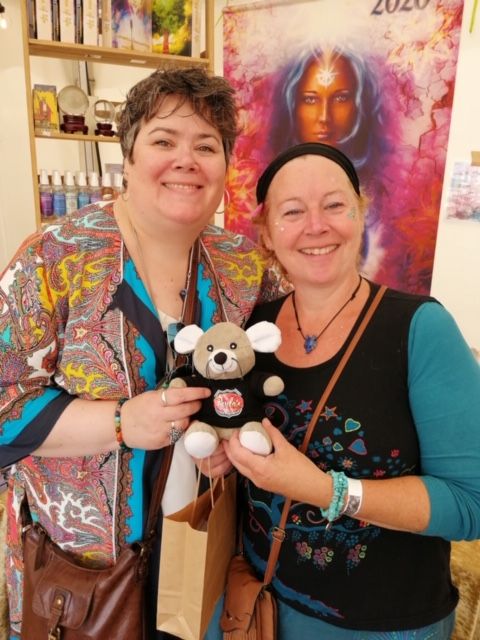 met Chantal en Harrie
Op de tweede en derde dag was mijn neef(je) Ryan mee. Al jaaaaaaaren hebben we het over Castlefest, maar het was er nog niet eerder van gekomen. Gekleed in kilt, met hoorn voor bier/mede/medebier op weg naar "thuis" . Ryan heeft zich prima vermaakt, helaas te laat voor workhop lier draaien of doedelzak spelen. Elke keer was er of een optreden of was het niet meer mogelijk om in te schrijven. Volgend jaar beter!!
Zaterdag was hij BraveHeart met een blauw geschminkt gezicht, ha ha na al die jaren wilde hij toch een keertje geschminkt worden op een feestje!!
Dankzij Ryan zijn Ronald en ik nu fan van Russkaja!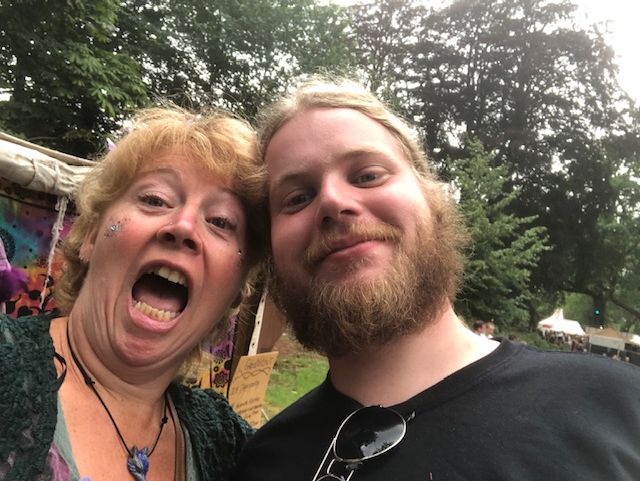 Mijn eigen mannetje was vorig jaar al een dagje mee geweest, maar die heeft inmiddels ook de verslaving te pakken….. hij heeft zich prima vermaakt, maar baalde dat er dit jaar geen riddergevechten waren!!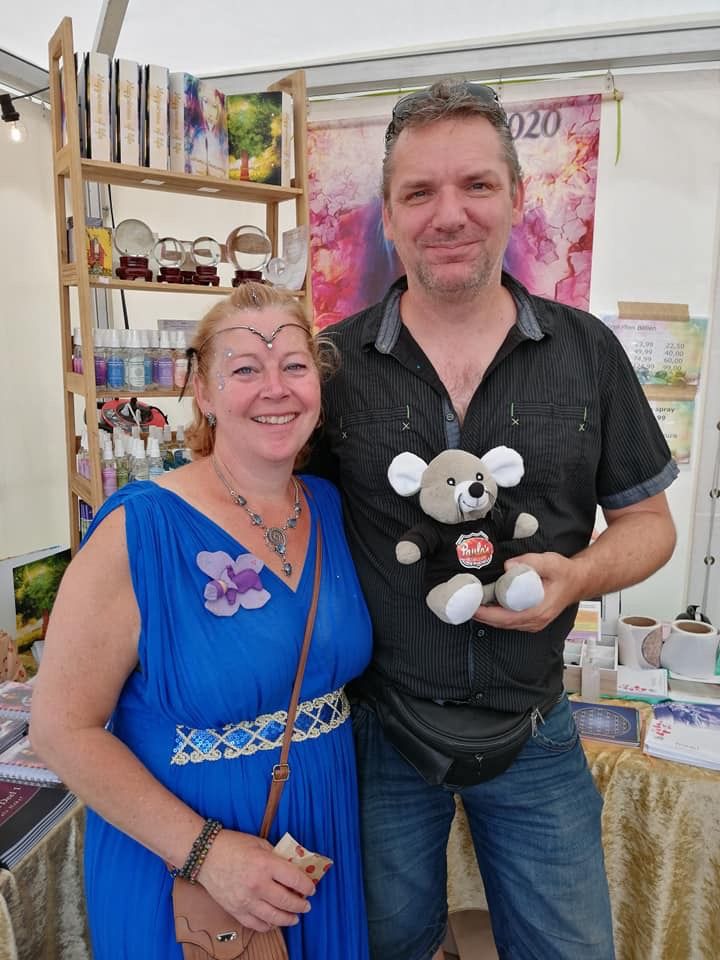 Iedereen vermaakte zich prima! Ik ook! De dagopening was elke dag weer een feest, verbinding binnen de Heidense Bende, de workshops, de mooie gesprekken met mensen, instrument zijn bij healings, mee doen met de drumcirkels, het aller aller allermooiste deze keer op Castlefest was voor mij het klinken!! Ik ben al tijden op zoek naar "iets" waarbij zang/klank als healing instument ingezet kan worden. Al is het om mezelf goed in de energie te zetten. Kippenvel bij alle 3 de workshops! Het moment dat mensen vrij hun klank laten horen en de stemmen elkaar raken!! Prachtig!! Af en toe had ik het gevoel in een klooster te staan en onder de gewelven te zingen met mijn broeders en zusters…..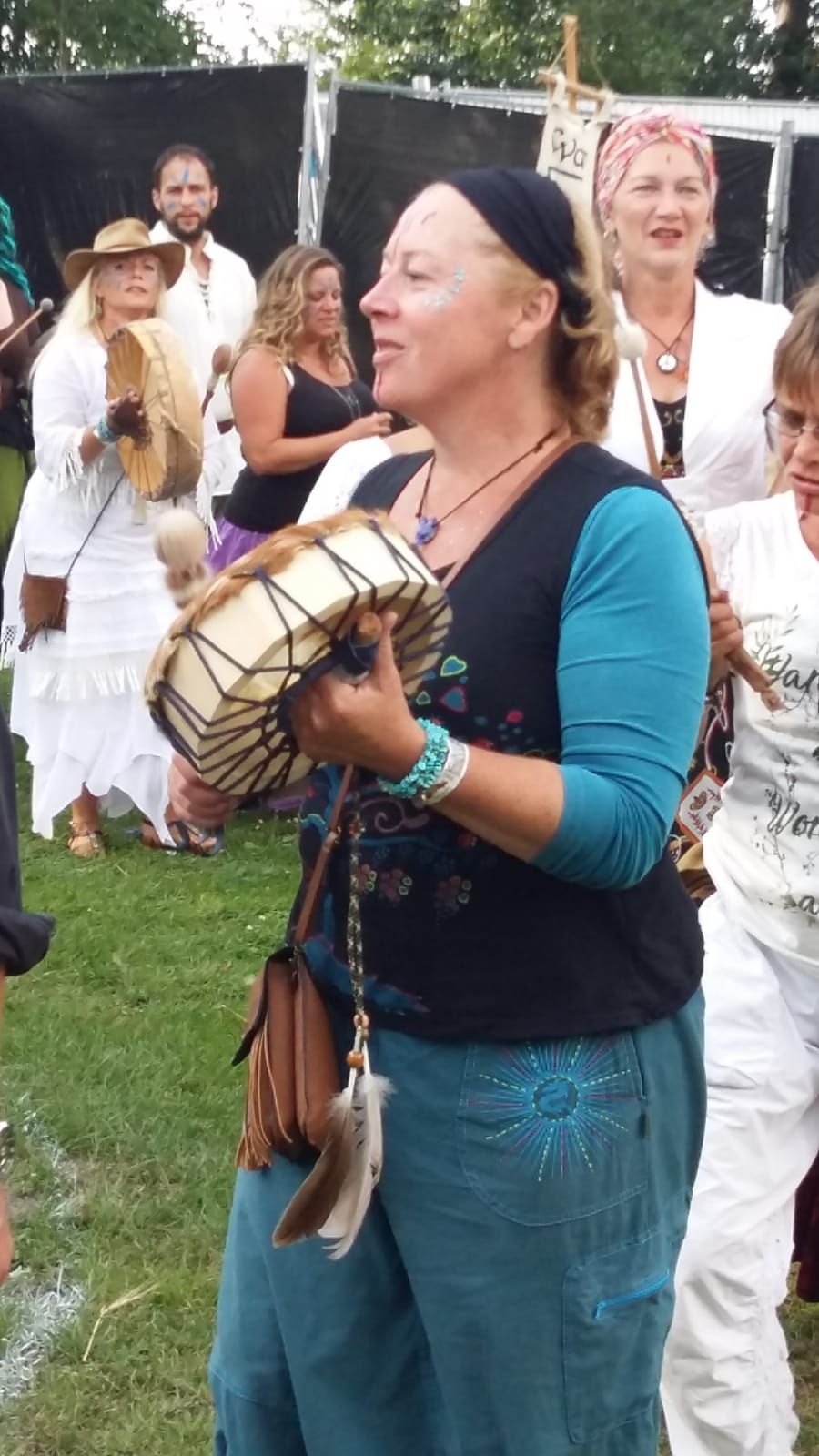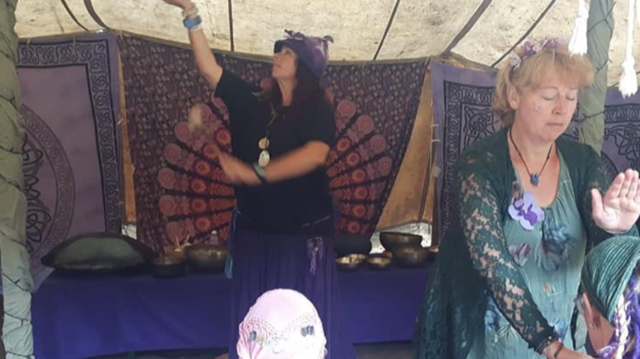 Na 3 dagen heerlijk nagenieten van alle foto's die op de fansite werden geplaatst, mensen die een tag stuurden etc.

Ronald en ik hadden de festival smaak te pakken en zijn 2 weken later nog naar ginarium sland gegaan. Het was toen redelijk drassig, we hebben een ridder gevecht gezien, stalletjes bekeken, gesprekken gevoerd, een wollen dread in laten vlechten (ik dan… ha ha ha) en lekker bij Klaske van Lumeria staan kletsen. Op Castlefest hadden we elkaar ook al gezien en een beetje gesproken, zijn daar met Harrie op de foto gegaan. Op dit festival kwam ik mijn favoriete producten aanvullen en even met Klaske en Harrie op de foto.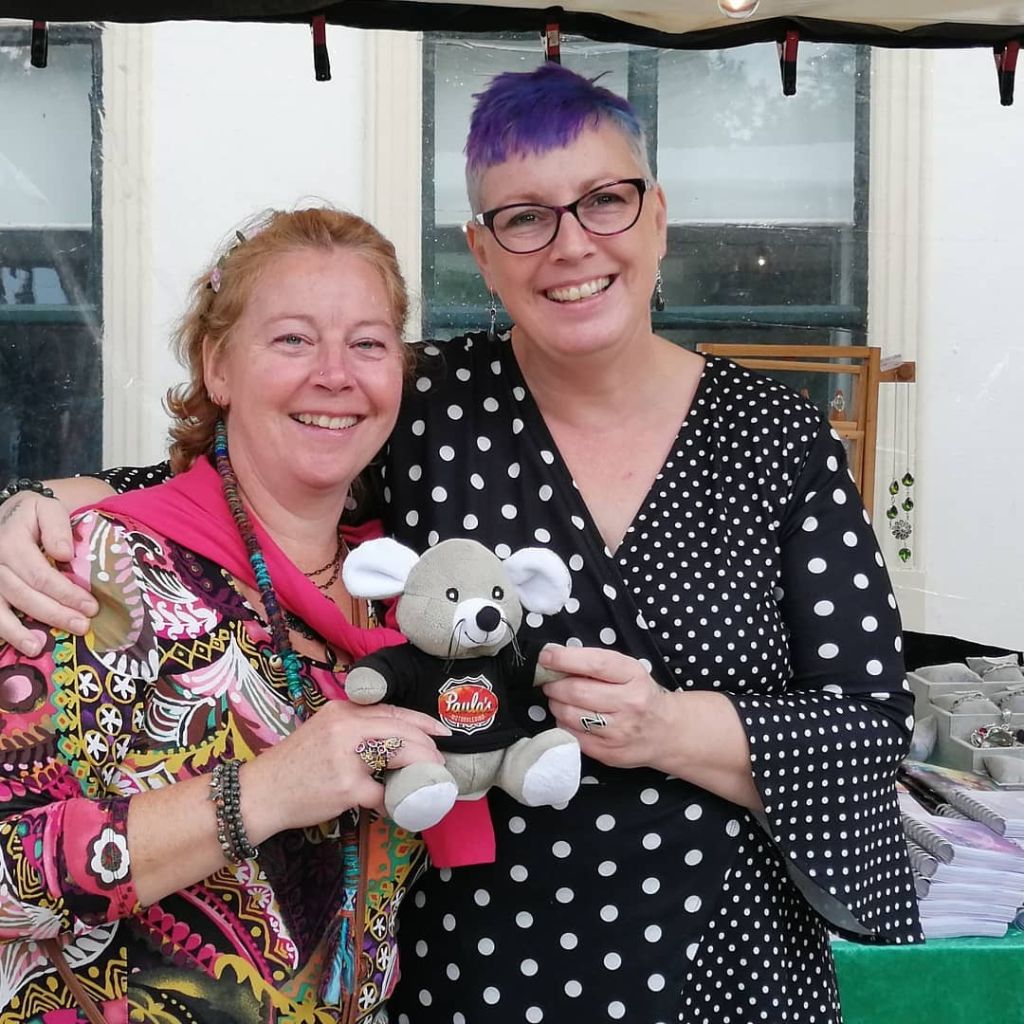 Volgend jaar willen we Castlefest en het festival in Winschoten bezoeken.
De vakantie heb ik afgesloten met een cursus Quantum Touch. Marcel En ik hadden die beiden op ons wensenlijstje en eind augustus hebben we 2 dagen lang geoefend met diverse technieken, ademhalingen en zijn weer een hoop wijzer.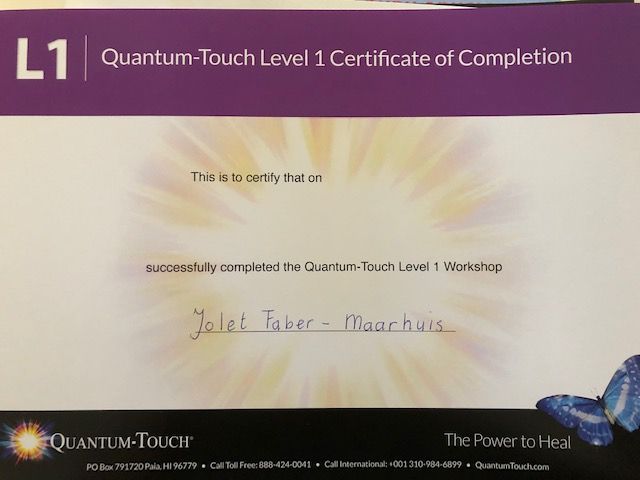 In de vakantie ook nog de nodige huizenreinig klussen gedaan, was ook weer super om te doen, weer veel geleerd, vooral ook om op mezelf te vertrouwen en goed te luisteren naar mijn gevoel. En hoe fijn het is om sommige dingen zichtbaar te maken voor mensen wanneer we met de onzichtbare wereld bezig zijn (pendelen, wichelroede).