Op school hebben we ook regelmatig te maken met het feit dat in gezinnen mensen overlijden, opa's, oma's, ooms, tantes, pasgeborenen. Dan is het belangrijk om dit met elkaar op te pakken. Op mijn vorige school hebben we ooit een rouwhoekje gehad voor een leerling wiens vader overleed. Voor hem een fijne plek om even te zitten, voor de rest van de kinderen een duidelijk signaal: rouwen mag, verdrietig zijn mag, hier is er ruimte voor.
Ik was al geïnteresseerd in de processen, hoe ga je er mee om, hoe ga je met de kinderen om, welke grenzen hanteer je (je kan niet alles altijd achter verdriet stoppen, als je iets doet wat grensoverschrijdend is geldt evengoed dezelfde maatregel als altijd.
Een oud leerlinge van me ging naar creatieve therapie als rouwverwerking, wat heerlijk dat zij zonder woorden haar emoties kon uiten! En ze nam regelmatig een kunstwerkje mee naar school om te laten zien en dan aan haar de keus of alleen de juffen het mochten aanschouwen of de hele klas.
Zij mocht ook zelf aangeven of ze het fijn vond om over haar overleden moeder te praten.
Op mijn huidige school heb ik geopperd om boekjes en naslagwerk aan te schaffen om kinderen op school te kunnen ondersteunen in een rouwproces. Gelukkig heb ik via via wat boekjes aan kunnen schaffen. Nu nog in een mooie doos/koffer. Helaas hebben we een boekje al nodig gehad, maar wat fijn dat we er mee bezig zijn als steun naar de kinderen toe.
Kortgeleden zag ik op facebook een verkoop advertentie "met een wereld vol troost" een doos met handleiding, foto's, cd's, emotieposter etc etc. Mijn hart maakte een sprong, deze doos was voorbestemd! En ik bedacht me: ik ga me in de processen van rouw, afscheid, verlies verdiepen. Via Laudius heb ik de Life-Coach opleiding gedaan en zij hadden een mooie online cursus rouwverwerking. Meteen maar aangepakt en aan de studie.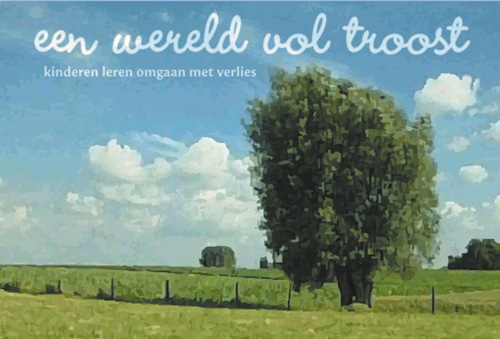 Voor mij een hele fijne aanvulling in mijn kindercoachingspakket, want ik wil kinderen graag op weg helpen om verdriet een plek te geven. Scheiden, een overlijden, ziekte, afscheid van een huisdier, allemaal processen van rouw en verlies.